ABOUT KARENDON FRENCH BULLDOGS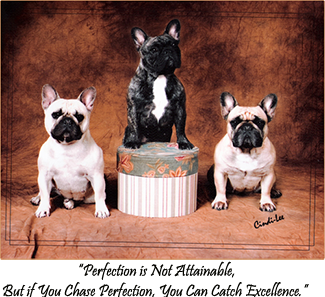 Our home, and front yard, is situated in an idyllic location on the shores of beautiful Calabogie Lake in the scenic Ottawa Valley. This is a large lake in a magnificent setting with many birds, mammals and other wildlife sharing our habitat. We feel privileged to be able to be in the company of all our Frenchies 24/7 and their personalities truly reflect their deep human bonds. They run and play all day, every day, in the fresh open air. Although French Bulldogs do not swim, our Frenchies love playing together on our beach under our constant supervision.
We are absolutely dedicated to raising our French Bulldogs in our home, underfoot, feeding them the best human grade, raw, whole food diet available and affording them plenty of fresh air and sunshine in a calm but stimulating environment. As a result of their pristine environment, outstanding nutritional care, excellent Veterinary care, and our constant research for the best pedigrees, representing the healthiest French Bulldogs, we have developed a selective breeding program based on an unsurpassed "Standard of Excellence."
I have had the opportunity to attend the French Bulldog Club of America National Specialty every year since 1993 and I have enjoyed the honor of judging French Bulldogs in the United States and Canada.
We have won Winners Dog, Best of Winners, Best Puppy, Best Opposite Sex and Best In Sweepstakes several times at the French Bulldog Club of America National Specialties held throughout the U.S.A.
To date, we have shown and finished over 95 Conformation Champions of Record.
In 2000, I formed the French Bulldog Fanciers of Canada, the National Club for French Bulldogs in Canada. In 2018, at the U.S. National Specialty, in Louisville, Kentucky, I was awarded the "Distinguished Breeder" Award. In 2019, I became a Life Member of the French Bulldog Club of America. That same year, I was awarded the "Master Breeder" designation by the Canadian Kennel Club.
Enjoy some images of our beautiful location.

This website and it's contents, including the photography may not be copied or reproduced in any medium and

are protected under copyright law. It is expressly forbidden to copy, remove or reproduce photography from this website! Written permission is required by Karendon Perm. Reg'd.